LUXURY ACCOMMODATION
VICTORIA FALLS
Luxury boats transport guests to our natural utopia where we are able to accommodate safari guests in 10 double suites and 4 family suites.
The spacious canvas en-suite rooms exhibit an air of elegance that blends in seamlessly with the natural environment.
Each suite has its very own viewing deck, with a private plunge pool.
OUR SUITES
Old Drift Lodge offers the ultimate immersion experience under the indigo tent of the sky and a ceiling of stars.
The suites are resplendent with stylish furnishings and fittings, accentuated by an indoor and outdoor shower, private plunge pool and star bed.
The outdoor bath allows guests to submerge themselves in hot, bubbly water while listening to the river rush by, bathing them with a wave of calmness and tranquillity.
AMBIENCE
The symphony of birdsong and calls of wildlife create a choir that enraptures all listeners and accompanies guests on this idyllic African experience, whether you are relaxing under a tangle of indigenous tress, reclining by the river or resting in their air-conditioned suites.
Old Drift Lodge offers family friendly accommodation with an air of opulence and grace, in a wild and exuberant Zambezi National Park, Victoria Falls.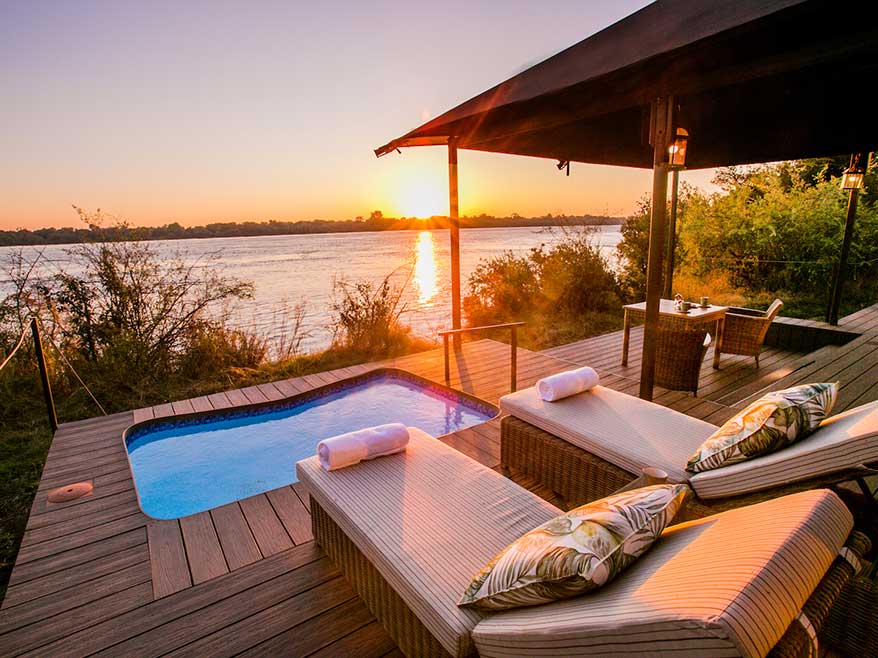 LUXURY FAMILY SUITES
Old Drift Lodge is steeped in history and harnesses the historical aura of the land it occupies. The suites boast unparalleled views of the majestic Zambezi River and are brimming with the old world elegance of a bygone safari era. Entering through a glass door guests are transported to a lavish space of gentle browns, copper, brass and dappled wood that echoes the wilderness outside.
The family suite consists of two inter leading bedrooms, separated by a sliding canvas door.
Luxuriously appointed and fully air-conditioned, the suites provide elegant refuge in the heart of the bush. Brass basins, billowing mosquito nets, and soft lighting mirror the rich beauty of the remarkable river setting and offer a memorable, shared family experience.
An outside deck complete with a crystal clear plunge pool, claw footed bathtub, sun loungers and outdoor shower allows families to make the most of the surrounding beauty and enjoy the warmth of the sunshine in complete privacy.
Contact us for fantastic lodge package details.
Wild Horizons Signature Special
Green Season Family Special
Honeymoon Special
Telephone: +263 83 28 42279, +263 83 28 44426, +263 83 28 42001,
Mobile: +263 782 745111
Email: wilma@wildhorizons.co.za