Brad and Annie White
General Managers
Brad and Annie White joined the Wild Horizons team in 2012. However, Brad's relationship with the bush extends far further back, he was born and raised in Victoria Falls. Together, he and Annie have spent nine
Read More
years sculpting a successful career in the hospitality tourism industry. Their journey has taken them through South African game lodges and hotels, to prestigious lodge's in Botswana's Okavango Delta before Victoria Falls beckoned them back.
They initially managed the Imbabala Safari Lodge and The Elephant Camp for Wild Horizons, before settling at Old Drift Lodge, which Brad has described as "home away from home". Annie has an impressive background in hospitality and holds several beauty therapy qualifications. This dynamic couple run the camp with the respect and care it deserves, with the help of a passionate and devoted team.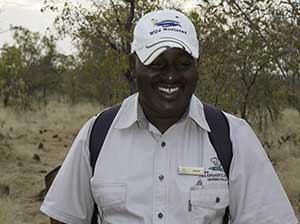 Mkhulekelwa Ndlovu
Guide
Mkhulekelwa Ndlovu or 'Khule' for short was born 44yrs ago in a small village in Matabeleland. As the last born of a family of 9 Khule was designated the sole cattle minder.
Read More
He first went to school at the age of 10 due to the demands of home chores his duties herding cattle. He completed his primary and secondary education in the same village where he grew up and after that began working for private vet, who used to take him to game farms. Here he met some game rangers and safari guides who inspired him to go into guiding. Khule has been guiding since he first got his learner's licence in 1996.  He qualified as a full Professional Guide in 2001 and has never looked back. Khule has a few words to share to those wanting to come and experience the beauty of Zimbabwe. He says it's important to experience nature without prior expectations so you can enjoy it all as it comes. "To my guests, I say look deep into nature and you will understand it better. On earth, there is no heaven but there are pieces of it. The fact that you have come this far, make the best out of it, we start the journey together and share what is on offer here." Read more about Khule's journey here: https://wildhorizonsblog.wordpress.com/2015/08/10/meet-our-people-khule/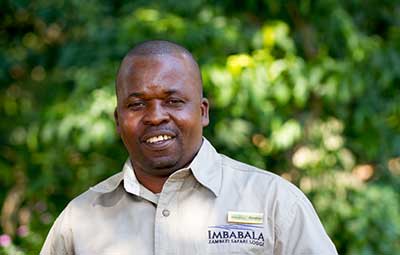 Abraham Mhlanga
Guide
Affectionately known as 'AB' to those close to him when he guided me at Imbabala Zambezi Lodge. From the moment we left the lodge with him he bought to life the wilderness around us.
Read More
Although he first appears quiet Abraham is a small package that keeps surprising. Most apparent is his very keen eye. As he steered a pontoon boat along the glassy Zambezi river he would call out creatures on the side far before any of the rest of us could see them, and then steer us closer for a look.
And whilst on game-drives Abraham ensured we were always interested even if we weren't seeing big game. An excellent tracker Abraham showed me how you could tell an elephants speed through the distance between it's front and back spoor, (this distance grows closer as an elephant picks up speed and the back foot may even overlap the front track if it's running) and led us on a fascinating follow of a group of lions.
I asked Abraham a few questions about his life and career as a guide. He was born in 1971, in Hwange town outside the largest National Park in Zimbabwe. His love of nature and great tracking skills were first born here.
"I spent most of my life in this beautiful area with amazing ecotone on the edge of the seasonal Matetsi River. While herding cattle we fished, swam, and camped out- although sometimes we could do a lot of tracking of our lost cattle!"
After many years of hard work studying and gaining experience Abraham had passed his Learner Guides License; Spent years doing voluntary work in wildlife conservation with several companies; ran mobile safaris for 5 years; learnt to cook at Bulawayo Polytechnic college and worked as an assistant mechanic. I think it's fair to say that Abraham is now a very handy man in the bush!
In 2006 he started full time guiding at Imbabala Zambezi Safari Lodge and has since moved to Old Drift Lodge. It is a sign of his commitment to his passion that when I ask him if he has had any funny questions from guests he replies seriously 'There are no silly questions to a guide.'
Community and Conservation
We have borrowed this land from the elephant, impala, birds and buffalo and we are dedicated to treading as lightly as possible on their beautiful patch of earth.
Telephone: +263 83 28 42279, +263 83 28 44426, +263 83 28 42001,
Mobile: +263 782 745111
Email: wilma@wildhorizons.co.za