Luxury boats transport guests to our natural utopia where we are able to accommodate safari guests in 10 double suites and 4 family suites.
The spacious canvas en-suite rooms exhibit an air of elegance that blends in seamlessly with the natural environment.
Each suite has its very own viewing deck, with a private plunge pool.
SUITES 
Old Drift Lodge offers the ultimate immersion experience under the indigo tent of the sky and a ceiling of stars.
The suites are resplendent with stylish furnishings and fittings, accentuated by an indoor and outdoor shower, private plunge pool and star bed.
The outdoor bath allows guests to submerge themselves in hot, bubbly water while listening to the river rush by, bathing them with a wave of calmness and tranquillity.
AMBIENCE 
The symphony of birdsong and calls of wildlife create a choir that enraptures all listeners and accompanies guests on this idyllic African experience, whether you are relaxing under a tangle of indigenous tress, reclining by the river or resting in their air-conditioned suites.
Old Drift Lodge offers family friendly accommodation with an air of opulence and grace, in a wild and exuberant Zambezi National Park, Victoria Falls.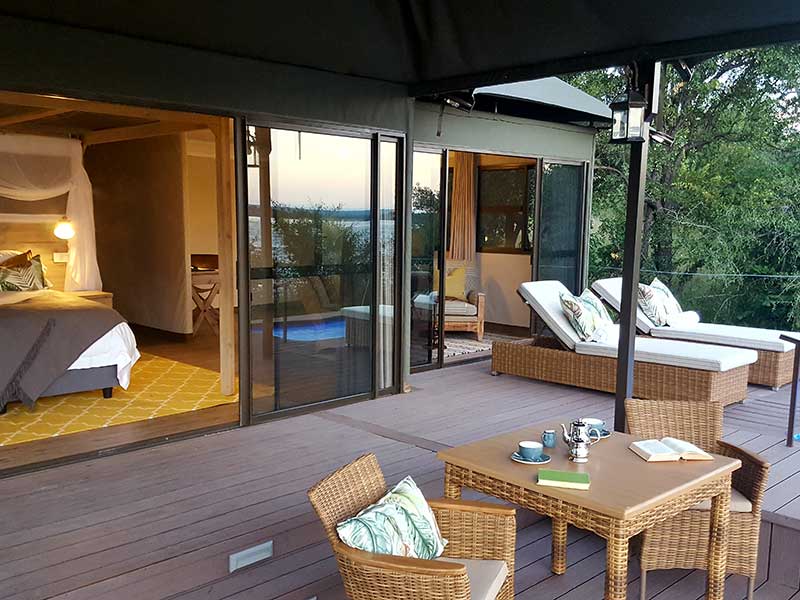 A seven kilometre stretch of river flows between the camp and the town of Victoria Falls, making Old Drift Lodge the closest lodge within the National Park to Victoria Falls..
Exclusive Packages
Contact us for fantastic lodge package details.
Old Drift Lodge is nestled within a wild paradise frequented by elephant, buffalo, herds of sable, eland, zebra, giraffe, kudu, waterbuck and impala.
Telephone: +263-213 - 284457, 2842313
Mobile: +263-782 - 745111, 745113
Ask for Sibb or Lodge Reservations
Email1: res6@wildhorizons.co.zw
Email2: lodges@wildhorizons.co.zw

Watch our Progress (Dec 2017)
Watch our Progress (Oct 2017)